Spanish with a Purpose
Is learning Spanish going to open a world of opportunities for you?
Do you have a heart for the Hispanic culture?
Are you looking for a place to learn Spanish, explore a new culture and grow spiritually?
The Christian Immersion Spanish Academy (CISA) is one of the few programs that exists in Central America
that upholds Christian values within its operation, curriculum and activities.
CISA
is the best and safest school to learn Spanish in Costa Rica
CISA is located in the small, rural town of Tuis, which is 25 minutes from the urban city, Turrialba. It is a family oriented and friendly area where Spanish learners, from beginner to advanced levels, will feel welcome!
CISA is a professional and efficient school. CISA uses an exclusive curriculum that has proven to make language acquisition accessible for students of all ages; teens, young adults, college students, professionals, couples, retired and also families with children.
---
Bible terminology class
This class is very useful for learning Biblical terminology in Spanish. Students work through bible verses, have discussions and also practice their listening and speaking skills.
Cooking class
This student favorite takes place one day a week in the CISA Kitchen. Students are taught how to prepare local Costa Rican dishes.
They take a hands on approach – cutting the vegetables, prepping the food and learning new vocabulary, etc., and then get the bonus of sampling the food at the end of the class!
Helpful hint: Come with an empty stomach so that you have room to eat the delicious food!
Natural Fitness class
This class incorporates low impact group exercises and can include a combination of; playing soccer, volleyball, etc., or running, hiking, weight training, functional movement, Rustic Fitness (a form of Crossfit), either outdoors or at the local gym.
The class is a great way to stay in shape, practice your Spanish listening and speaking skills and have fun while doing it!
---
Intensive Lessons
This class involves taking more formal lessons, as an extension of your morning classes.
Medical terminology class
Available for medical students and medical professionals to be able to learn specific Spanish vocabulary within the medical field. The schedule can vary in the afternoons. Please ask for more details.
Spanish for Teachers class
A special curriculum designed for Spanish teachers who want to refresh their own Spanish language skills and at the same time learn new second language teaching techniques.
---
Spanish Online
For students who would like to learn Spanish, but do not have the time or resources to study in Costa Rica, the On-Line Spanish Tutoring Experience is an ideal fit.
This On-Line Experience is also ideal for students who have come to CISA in Costa Rica and would like to continue developing their Spanish skills back home.
The advantages are that students can be in the comfort of their home and can choose the days and times that they are available for class.
The requirements are that students have a computer and speakers and a SKYPE account (free download: (free download: http://www.skype.com).
One of our CISA staff will be assigned as your tutor and you will both log onto SKYPE at the designated day and hour.
The online Spanish tutoring experience includes:
Spanish Diagnostic Test: As part of the Orientation, students do a Spanish diagnostic test in order to determine their level of Spanish and with that information are placed with the appropriate teacher and class.
Native Spanish Speaking Tutor: Students will receive tutoring from a Native Spanish Speaker and practice listening and conversation skills using authentic language.
Orientation & Guidance: Students will be guided and given assistance when needed by their tutor and also have access to the Program Coordinator to discuss any questions or concerns.
Materials: All materials are provided to students via SKYPE or email (texts and handouts) throughout the classes.
Students are able to choose the amount of hours and days per week they would like to have classes.
Tours
CISA facilitates tours via the 'Rainforest Experience', which arranges special Tours for students.
Some of our most popular tours are:
Rafting
Canyoning
Canopy
Coffee Tour
Caribbean Coast -Cahuita Beach
Pacific Coast-Jaco & Manuel Antonio Beaches
Turrialba Volcano & Irazu Volcano, Arenal Volcano
San Jose shopping & movie tour
CATIE Botanical Gardens
Hacienda Experience – macadamia, coffee, sugar cane Estate
and more!
Students bring a blank check or cash and pay for the tours once they are at CISA.
Payment is made at the end of your stay once you are given the invoice of all of your expenses.
Helpful hint: Let us know if there are places you want to visit. We would be happy to help arrange your travels.
Voz Que Clama Mission
The Voice of One Crying Mission. Students are welcome to join the VQC Mission Sunday church services in Tuis. It allows them to take part of the Costa Rican style of worship. It also gives opportunities for students to meet other local families.
CISA is able to organize group trips that want to come and combine Spanish classes and community service through the VQC Mission. Work projects, ESL, VBS, kids activities, arts, etc. are examples of possible activities.
Individual students and families studying at CISA are able to volunteer with the VQC Mission. Guidance is provided and projects created depending on the areas of interest of the students.
The VQC Mission is a not-for-profit mission that began in 2003 in Tuis. It was founded by two Costa Ricans from San Jose. It also has the nonprofit status of 501(c)3 in the United States. Donors are able to receive a tax receipt for financial contributions mailed to our US office.
The Mission focuses on facilitating church services, Bible studies, Women's ministry, Senior's group, kids activities in the community. They also work with the Cabecar Indigenous who live on a reservation in Chirripo Mountain.
Students who are interested could join the Mission on a 3 day trip to the mountain to help provide food, do building project, health clinics, activities with children. This trip is always weather pending and the dates vary.
CISA video
Learn Spanish in Costa Rica!
CISA Blog
Why Tuis, Costa Rica Should Be On Your Bucket List!
---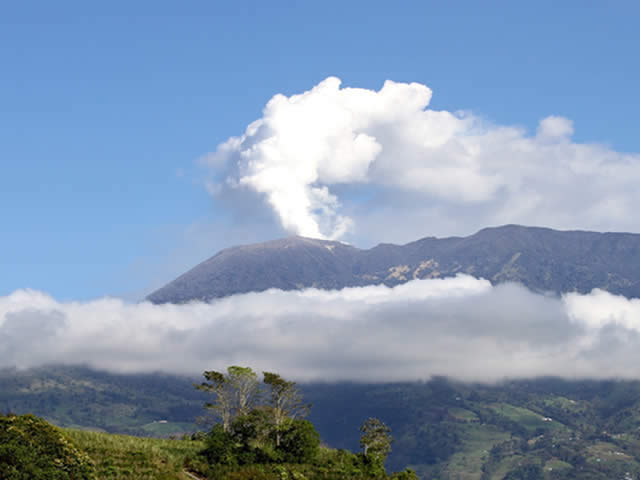 "Breath-taking!" "Culturally diverse!" "Full of activity!" "Community!"
If any of the above strike your curiosity, Tuis, Costa Rica may just be the next place to add on your bucket list!
Tuis, Costa Rica is a small, rural township in the Cartago province of Costa Rico, only a 25-minute drive from the city of Turrialba.
There are many things that make Tuis a great place. The beautiful scenery, full of forest and vegetation makes for a full day of exploring. Also, not far away is the Turrialba Volcano, which has a picturesque beauty that is breath-takingly magnificent.
Aside from the beautiful scenery are the dozens of activities to enjoy with friends and family. From tours to hiking and canyoning there is something that will meet your needs. Take for instance the Hacienda Tour, taking you through the macadamia, coffee and sugar cane estates. Or if you are the more outdoorsy type, there are plenty of cycling trails and rafting adventures awaiting your arrival! Or perhaps a leisurely walk around the CATIE botanical gardens is more your style.
But perhaps the greatest thing about Tuis is the sense of community. The locals are extremely welcoming and this sense of community is a large reason that CISA (Christian Immersion Spanish Academy) chose Tuis for its home.
CISA is an academy that teaches Spanish, but it cannot be done without the support and hospitality of the locals who open their homes to CISA's students. The academy thrives here, offering many different experiences for anyone; from individuals to families and groups. Providing courses in biblical studies, cooking, fitness and right on through to medical terminology, all done through immersing students' in Tuis' culture.
Of course, all of this would not be possible if it were not for the amazing community, welcoming and including the students into their way of life and making Tuis their second home.
With all of this as, why would you want to learn Spanish any other way?