Stories
---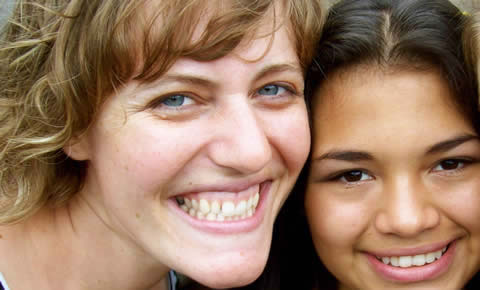 Emily Vangheen - Wisconsin
I spent two and half months at CISA to improve upon the little Spanish I knew previous to going to Costa Rica.
The experience I had at CISA greatly improved my speaking skills in providing one-on-one classroom instruction with a great teacher, who was able to answer and tailor my learning based on my questions and level. The "extracurricular classes" (i.e. Cooking Class, Exercise Class, and Culture Class) were helpful experiences as well. I value greatly the bonds I created with the people in those classes and the opportunities I had to learn more about Costa Rican culture. The communities in Tuis and at the mission were amazing, making it very easy for me to feel at home and to create friendships. My homestay family was also wonderful. I felt like I was a part of the family as they invited me to go with them to many events, included me in family meals, and just shared in daily living. As my Spanish developed, so did my relationships with my family and the community around me. Not only did my Spanish speaking and my understanding of the Costa Rican culture greatly improve at CISA, but I also grew as a person with the experiences I had, the relationships I formed, and the faith I built upon while I was there.
¡Pura Vida!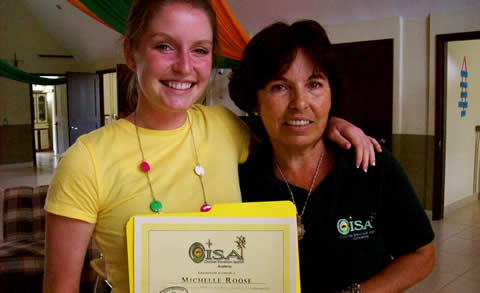 Michelle Roose - Michigan
I had the opportunity to spend twelve weeks in Tuis, Costa Rica during the Fall of 2010. It was an amazing experience getting to know the people at the Mission, living with a family, improving my Spanish and growing in my faith!
I immediately felt comfortable and welcome at the Mission because the people are so friendly and generous. They invited me to their homes, to many different activities and fed me delicious food! The family I lived with welcomed me into their entire extended family and treated me as their own daughter. I became very close with them and felt completely at home. I loved spending time with them and learning about their culture; they were always willing to answer questions and tell me stories! I learned a lot from my family and also learned so much at the school. The small class sizes allowed me to have individual instruction and to become very close with my teacher. Sometimes we would walk around downtown or go to a restaurant for class to practice what we had been learning. I was completely immersed in Spanish, which helped me to improve and feel much more comfortable with my Spanish abilities! The people at The Mission are so encouraging and always willing to help. My favorite part about my experience in Tuis was getting to know the people; I learned so much from their generosity, love for people and love for God!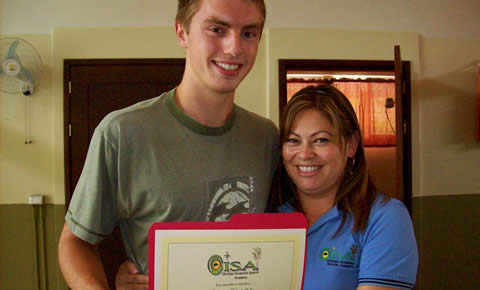 Kai Clark - California
I went to Costa Rica expecting an amazing experience full of fun, great food, and cool people.
My expectations were surpassed so much so that I want to go back and never leave. In September 2010 I left my comforts and friends and spent ten life changing weeks with CISA. Rarely have I seen such compassion and contentment as I did in Tuis. My host family always did their best to make me feel at home and the food and coffee was always to die for. As a person who lives in a time-oriented society, I was surprised at how the Ticos and Ticas were so people-oriented. As I walked through town complete strangers said hello and often stopped to have a conversation. If I went to another person's house, I was always offered coffee and sweet bread (my favorite!). But beyond all of the wonderful daily pleasures, I enjoyed a closeness with God that I never had in the states. With all of my worldly distractions back in California, God spoke and I listened. For ten weeks my relationship with God went almost unhindered by the commotion I left at home. I thank my amazing friends in Costa Rica and my loving God for an unforgettable two and a half months. I won't forget the experiences I had in Tuis and I will always remember the taste of real Costa Rican coffee.
If you are questioning if you want to visit Tuis or have doubts about what it will be like, than let me put your doubts to rest. The school is great at teaching Spanish and the teachers do a fantastic job at catering to your Spanish speaking ability. In addition, the church services on Saturdays are always fun and welcoming. I can't tell you how amazing the people are in Tuis, so you will have to find out for yourself. I went to Costa Rica doubting whether or not my expectations would be met. Ten weeks later I left in awe, doubting if I even wanted to go home. Pura Vida!
Kai Clark
California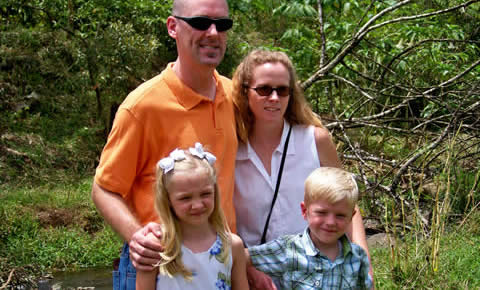 Tim and Cindy Clem and his family - Oregon
It would be my privilege to give a glowing reference for Christian immersion Spanish Academy (CISA).
First, some background. My wife Cindy and I were called to join Engineering Ministries International's Latin America office (EMI-AL). EMI is a group of Architects and Engineers who volunteer their service free of charge to other Christian ministries. The Latin America office serves Mexico, Central South America. As a result, I need to speak Spanish.
When we were called, neither Cindy nor I spoke any more Spanish than we could read from a Mexican Restaurant Menu.
When we moved to CISA in April of 2008, our daughter Laura was 6 and had been in Kindergarten for seven months. Our son Tanner was 3. CISA provided a home for us to live in so we were able to have a retreat from culture shock and a place to parent our children. What truly amazed me is how the Lord had prepared CISA for us and us for CISA. Each time we had a need beyond language study, someone at CISA new something about how to fulfill that need. We truly felt like the professors and staff cared about us and our family.
Although CISA offered a program for the kids, we realized that Laura would be better off in the public language school where she would be even more immersed in the Costa Rican culture. Since she had already been in Kindergarten for seven months we knew the curriculum would not be a challenge for her so she could focus on the language and cultural differences. Amazingly, when we mentioned this desire to our professor, she said the Kindergarten teacher was her sister-in-law and called her to find out how to get Laura enrolled. Laura was the first "gringa" to attend the public school in Tuis and we cherish the time she spent there, preparing her for the larger public school here in Atenas Costa Rica where we live now.
There are so many examples of how friends and staff in Tuis helped us with adjusting to the culture; far more than just learning Spanish, we learned from CISA how to live in Costa Rica.
The program at CISA is tailored to each student. At times Cindy and I each had our own professor one-on-one. After seven months of school, starting from no Spanish, Cindy and I are able to hold conversations with locals and communicate our needs and feelings. When we were back in the States in December, as I was speaking Spanish at church I was awestruck that the Lord has allowed me to learn another language. Pretty exciting for a 40 year old!
Although we did not work with the Mission to the indigenous in Tuis, Cindy made a few journeys to Chirripó, an indigenous reservation, and used her training as a nurse to hold a clinic. This has been a great time for her to see the Lord using her skills here where He has called us.
I hope this communicates that I highly recommend CISA. I pray the Lord will give you wisdom and clear leading where you should take your family for language training.
Tim and Cindy Clem
www.clemsincostarica.blogspot.com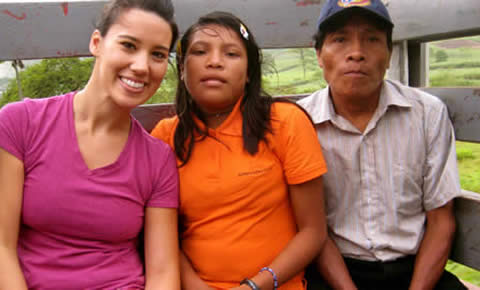 Cheryl Ensinger - Pensylvannia
In 2010, at the ripe age of 28, single, and recently graduated from Nursing School in Pennsylvania, I was looking for an experience out of the ordinary that would enable me to provide better care for the Spanish speaking community prevalent in the culture around me. I had learned through doing a month long study-abroad program with my community college in Spain, that an immersion experience would be the best and most effective avenue to truly learn a foreign language. There's something wonderfully motivating about growing in a culture that insists you learn its language in order to conduct everyday life. Through a Google search, I stumbled upon CISA and was particularly drawn to its Christian values, which advocated a subculture of Christian love, morality, safety, and patience. When I arrived, I was not disappointed.
The first week of my three-month stay felt like a solid month! Talk about overstimulation of senses, changes, and interactions with a whole new culture of people! And though I found myself resting a lot due to mental exhaustion in this time, I remember the gracious understanding, patience, and acceptance of my host family. From my first to my final day, the kindness of this family helped me grow in ways that my classroom times could not. Talking, practicing homework, watching tv and movies, traveling to town, and having afternoon coffee with friends together were some of the ways I got to practically use and grow in my conversational Spanish. Of course, as I was growing in my Spanish, there were times of great frustration, mistakes, and discouragement. The temptation of impatience comes when you desire simply to be able to communicate and be understood. However, these challenging times were met with encouragement from many sources, including my teachers, classmates, my host family, church, neighbors and even strangers who shared "Poco a poco", meaning "bit by bit", as words of comfort knowing that a person arrives at the end of a journey a step at a time.
What I appreciated about the learning style at CISA is that I felt my program was tailored to meet my needs. This included taking a placement exam on the first day, being placed in a curriculum that could challenge me, and partnering with one other student at my same level. This left the teacher to student ratio at 1:2 and allowed me to truly dig in deeply with the language and have healthy accountability in growing. The variety in lessons and activities helped not only to keep things interesting, but it allowed me to get to know aspects of the Christian life and Costa Rican culture at the same time. All of these things were so different and refreshing from the traditional ways of learning that I'd experienced in the States. It is especially true in classrooms where you can feel like one face among 20+ people and have a million and one excuses on why to procrastinate doing your Spanish homework.
Naturally, it didn't prove to be very difficult to embrace the beautiful tropical surroundings that the town of Tuis is nestled in. Between coffee plantations and sugar fields, the mountains provide great natural coverings and barriers. The warm blooded lass that I am felt fully at home amidst the tropical climate – even down to the rejuvenation I found in my hair and skin. This is not uncommon in that Costa Rica is so ecologically minded and protective of its natural resources. I've enjoyed learning more about the culture and land through tours of coffee plantations, natural beach excursions, treks through the rainforests on ziplines, and even day trips into cities like San Jose. Did you know that Costa Rica has no military? It was abolished in 1948 by President Jose Figueres Ferrer. Amazing!
And how can one speak of a life changing experience without mentioning the impact that getting involved in the lives of others through a faith community and opportunities to serve. I believe that true joy, love and blessing come through selflessly loving others. Singing, sharing, and working together with others during times of worship, putting on a crafted drama with the kids, playing Dutch Blitz with the youth, sharing and discussing topics such as prayer, difficulties, and the will of God through a week night study all built into, shaped and molded my spirit, as well as theirs. Serving and loving the women through teaching, encouragement, and snacks provided natural friendships and connection. And probably most impactful, was our three day trip into the jungle of Costa Rica, through a 4hr hike up mountains and across rivers, to minister to a group of Indigenous people in an area called Chirripo. Providing medical care, discipleship, love, and compassion to one of the poorer areas of Costa Rica was surreal and perspective altering. It truly moves you so you cannot see the world through the same lenses.
Like most visitors to Costa Rica, I fell in love with the simplicity and "Pura Vida" aspect of its culture in many ways. I experienced "stress detox" in my first month there, and am thankful to have had it rhythms, culture and language influence change not only my ability to communicate better with others, but also the way that I live, think, and see this world – and my place in it.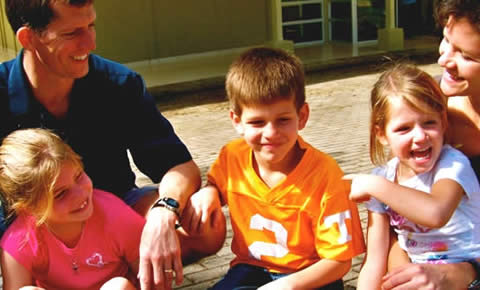 Beightol Family, California
In early 2011, we had some time between jobs, and God lead us to spend it in Tuis, Costa Rica; to study at CISA and be part of the Voz Que Clama mission. Like many others, we learned about CISA on the internet, then began a dialogue with the CISA team and soon realized God's will for us to go to Tuis. My purpose was for my kids to experience a different culture, learn to speak Spanish and for us to just do something different as a family. Having now completed our 16 week vacation in Costa Rica, I can say these personal wants were shallow, God had much bigger plans for us. My sister lives in Tennessee. Her and her husband Troy have two children, their oldest has cerebral palsy. Karen is a doctor and has built a private practice. Troy is a motivating and successful high school football coach. Together, they balance many demands. I believe Karen's family is rallied together every day to make it all work, and their lives are rich. In America, many of us have routines and conveniences that make parenting easy. Living in Northern Virginia, you could say, we had everything, but we lacked a richness. In Tuis, Costa Rica the food is different, there are few TVs, bus transportation is the standard and almost everyone you meet, does not speak English. Taking the children from the modern conveniences of America to Costa Rica was like putting our family in a scrabble cup, giving it a good shake and rolling us out to a place where everything was different. In many ways, we started over as a family. No more iCarly, no TV, no McDonalds! Just the 5 of us, figuring things out, together.
The CISA experience is all about the people. When you are preparing your trip, you will be wondering about what you will eat or what you will do as a family. But soon you will meet Hector and Daniel, Macha, Samia, Gatica, Adrian and their families, the teachers, and all the other wonderful people that belong to the mission. You will quickly learn to communicate in Spanish, your kids will soon make new friends and you will see a real change in their lives. You can attend Saturday night worship services where the Holy Spirit moves powerfully and you will find yourself overwhelmed by the power of God's love. Because you have decided to do something different, you will quickly learn to rely on the people of Tuis, and they will rely on you, which is the key to forging meaningful relationships.
Since you are reading this, chances are God is leading you to consider an immersion experience abroad. We felt God pushing us to go, and we found a bunch of reasons not to go to. I am thankful that God never stopped leaning on me to just do it. I'm thankful that my wife, Tara, was willing to go into the unknown and thankful that my kids were willing to leave their friends and accept to such a significant change in routine. The experience changed our lives forever.
We journaled the entire experience. If interested, you can read all about it at: http://web.me.com/beightols/Site/Blog/Blog.html
May God bless you on your quest.
P.S. We left Maggie, our 1 year old black lab behind with Tara's parents. 4 months away from Maggie was difficult, but we survived. So don't use the family pet as an excuse not to go. :)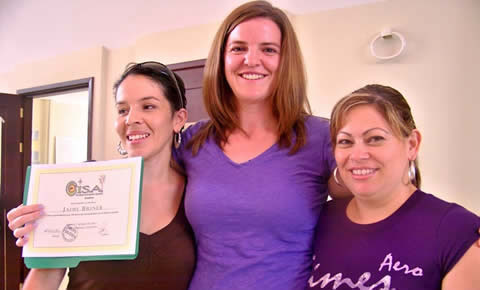 Jamie Briner - Boise, Idaho
My experience at CISA was very positive and it helped me in many ways. I was able to be a part a family and will be friends with the people I met for the rest of my life. At CISA you are able to be immersed in the language and in a community of giving individuals who work hard to create a full and beneficial experience. They helped me gain the confidence and ability I needed to use the language professionally and personally. They also created many opportunities for me to interact with the people and learn about the culture. They provided a safe and memorable experience that will stay with me forever.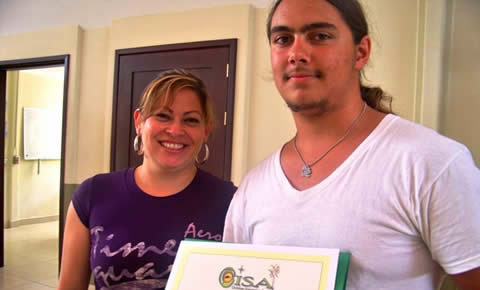 Nathan Place - Texas
I was first introduced to CISA by my brother, who had attended 2 years prior. Though he had told me of his experience, I did not know what to expect when I stepped of the plane. After the 2 hour drive through the windy mountains, I arrived at my family home. I immediately felt at home, and I knew I was in a safe, peaceful place.
Over the next three weeks, I got to know my family, the country, and Spanish. Those three weeks changed me. My family was incredibly friendly and helpful, and over fed me every meal. I learned a lot from their honesty and way of life. They helped teach me the meaning of family, as well as the little value there is place on material objects.
I learned quite a bit at CISA. The staff are all quite knowledgeable, very patient, and very fun. I gained so much from the small Spanish classes they offer. They are very small, having only 2-3 students per teacher, and this opened up many opportunities for conversation and deeper Spanish speaking.
Though most of my time was either spent at CISA or at my house, I had great experiences everywhere I went. The people of Costa Rica are very friendly, very relaxed, and very accepting. I always found a good conversation whether talking to locals in Tuis, or someone on the street in Turrialba. Not once did i feel in danger, but I always felt curious.
I also spent many afternoons doing the touristic things. I went to the beach, went rafting, canyoning, and hiking, and I also spent time doing tours. All of these things are recommended. The weather was always perfect, and I had fun and learned everywhere I went. I strongly recommend the Christian Spanish Immersion Academy.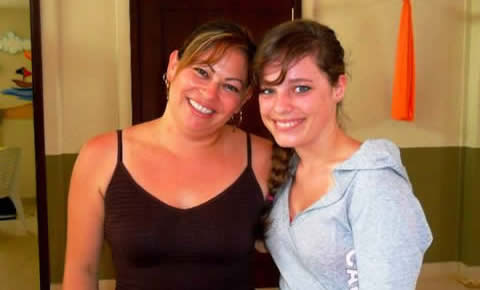 Alyssa Esseltine, Ontario, Canada
When I first came to Costa Rica I hardly knew any Spanish. I was scared it was my first trip out of the country. I was so surprise at how beautiful the land was . It was amazing. I soon met the different students and my family. We did all different kinds of activities together. We went to the beautiful beach. They honestly look like the ones you would see on a postcard ! We hiked up a waterfall. Which was breathe taking and so beautiful no words can describe. The mountains and land there really makes you feel God's power and wonder.
The people are so friendly and accept you into their lives so willingly. My family accepted me and adopted me into their family the first day I got there. I was so blessed to have such a great family. The teachers at the school are so patience and teach you step by step. They helped me so much when I was not feeling so good. They made me feel special and part of the school so much. Everyone there is so happy and uplifting. It is amazing. You really can't understand the full experience until you go! It took my breathe away so many times, it still does as I look back in time. It does not stop there, they still stay in touch with their students and friends even after we leave them. It may only be for a small time that we are part of each others life's, but it the impact that lives on forever!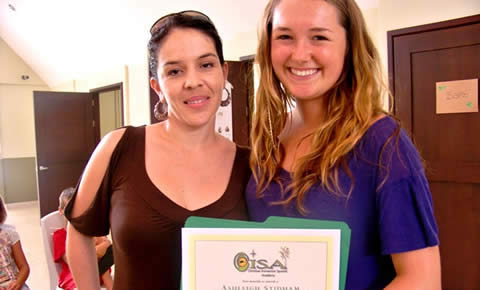 Ashleigh Stidham, California
Coming to Costa Rica through CISA was definitely the best way to be immersed in a Spanish speaking country.
I came with three years of Spanish from high school, and my friend came with one year. When we returned home from Costa Rica, we both skipped a level in high school Spanish, for her, she went from Spanish I to Spanish III, and for me, I went from Spanish III to Spanish AP.
I came to Costa Rica through CISA because I was ready to learn about a different culture and become more comfortable speaking and comprehending Spanish. And that is exactly what I got–and more.
When my friend and I arrived in the San Jose airport, we were so nervous and anxious for what was ahead! Meeting Daniel definitely lightened our moods, and later when we met our house family, our teachers, Hector, and other students, we felt so comfortable! By the end of my three-week stay in Costa Rica, I was not ready to leave because that week I felt the most "settled in" and attached to my host family!! I learned so much about the culture, the different Costa Rican words and phrases, the different uses of Spanish; I also learned how to listen better in Spanish, as well as speak with more confidence! The teachers are so encouraging, and I love that they talk to you only in Spanish! I also learned a lot about myself in Costa Rica. I learned about my weaknesses and strengths, and what God might want for my future. Costa Rica definitely felt like a second home to me because of the loving people that surrounded me. I also loved the Christian aspect of it; I was able to hear other people's opinions of Christianity, as well as listening to messages in Spanish! I loved how everywhere I went, I was able to be involved in Costa Rican culture, whether it was through food, working out, walking around town, playing soccer, going on tours and hikes, going to church, or just talking to the sweet people. I saw God in almost everything I did and saw in Costa Rica, and that opened my eyes so much more.
I miss Costa Rica so much! And I recommend it to anyone. I really would like to return, and maybe with my family!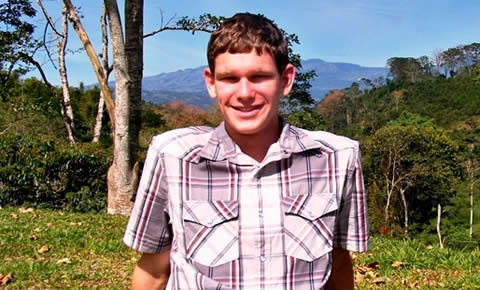 David Vander Hout, Canada
There are many different reasons that people have for wanting to participate in a Spanish immersion program. Their reasons may be work or school related, or some may be looking for an adventure. Whatever your reasons for being interested in Spanish immersion you should find all that you are looking for with CISA. Their program offers the opportunities to study the language in a safe and wholesome environment, while at the same time experiencing the beauty and adventure of Costa Rica.
I have been working with Mexicans on my family's farm since I was quite young. I had always enjoyed working with them, but communicating was difficult. Practicing my Spanish with them, and using programs like Rosetta Stone helped, but I felt that I needed some time to be immersed in the Spanish language. I wanted to hear their stories, understand their jokes, and make working together more efficient. I looked around online for an immersion program that looked right for me. I am thankful that, out of all the many immersion programs out there, I found CISA. During my first few weeks in Costa Rica I knew almost no Spanish, but day by day I could see my Spanish improving. The key to the progress that I made was classes at the mission and the family that I lived with. By the end of my three months in Costa Rica my Spanish was far from perfect, but because of my teacher, and friends I left with a sufficient knowledge of the Spanish language to communicate easily at work.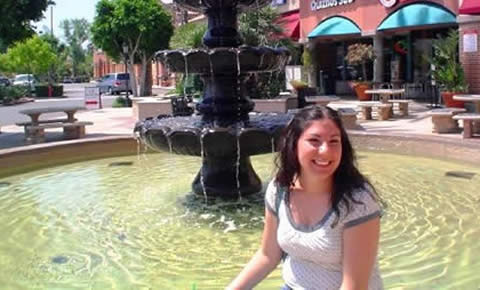 Diane Wahhab - Sacramento, CA
I attended CISA for two months in the summer of 2007. My experience was amazing. Tuis is a very friendly and safe place. I lived with a wonderful family that took me in and treated me like I was their daughter. Out of all the families mine lived the farthest from the school which was about a 5 minute bus ride or 20 minute walk. Most of the time I chose to walk school because it is so beautiful there.
The program can be designed personally for each person. I did 3 hours of Spanish instruction 5 days a week. Although I had taken a Spanish class in the states, I pretty much went knowing nothing. However, being saturated in the culture and the classes helped me to learn quickly. I can home with the ability to have basic conversations and with a comprehension of 65%. That is amazing considering I was only there for 2 months.
Besides that I did some volunteer work for the mission and also traveled. The school organized a trip for me and the other students to go to both the Pacific and Caribbean coasts. I also went river rafting, cannoning through the rain forest, and to a volcano. I had never done these things before and it was all fun, safe, and well organized.
When I was not in class, volunteering, or traveling I spent time enjoying life in Tuis. I would play soccer in the plaza (park) with the kids, or spend time with my host family. Other times I would take the bus into the neighboring city with another student to go shopping. There was always something to do and I learned much about the culture through theses experiences.
This is just a brief description of what I did while at CISA. What I gained from the experience goes much deeper and has shaped me in many wonderful ways. I am still in contact with people I met there both locals and other students. I would defiantly do this program again and look forward to visiting Tuis in the future.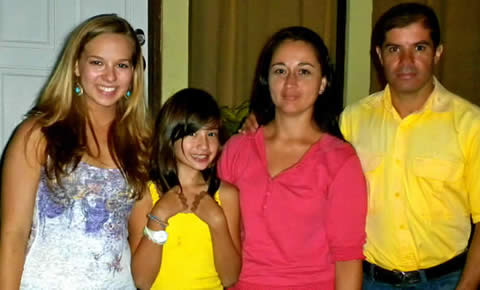 Amy Hubbard
My experience in Tuis with CISA was more than I could have ever asked for. I didn't come to Costa Rica with the greatest of expectations due to a previous unpleasant study abroad experience. However, CISA proved to be extremely different. I must say, never have I felt so much comfort and love in a place far away from home. It amazed me how eagerly my host family invited me into every aspect of their daily lives and I quickly became their "hija blanca" (white daughter).
The program staff and directors were incredibly helpful and encouraging while guiding my immersion experience. My teacher formatted the class to suit my needs and became a friend inside and outside of class. I thoroughly enjoyed the time I spent getting to know other students during class and on weekend tours.
Through volunteer activities and working with the mission I became closer to the local community and people. Hiking to and from the Chirripo Mountains was one of the highlights of my trip. I am so thankful to have had the opportunity to work and share with the indigenous people there alongside of CISA students and staff. I can't even begin to describe all of the emotions I felt in those three days – memories I'll keep with me forever.
What I didn't expect was to become so close with the CISA staff, students, and my host family over six weeks. I don't think it was a mistake that I randomly stumbled upon CISA in a google search. I know that God's hand had been over it and He blessed my time in Costa Rica. God also moved me in incredible ways and started to change my life plans and desires for the better. Going to Costa Rica gave me the opportunity to step outside of my own little world and see the bigger picture. If I could have done anything differently it would have been to stay with CISA for longer – I ended up staying a week longer than I had originally intended but it was all I could do!
Please contact me if you have any questions or would like to hear more about my experience with CISA.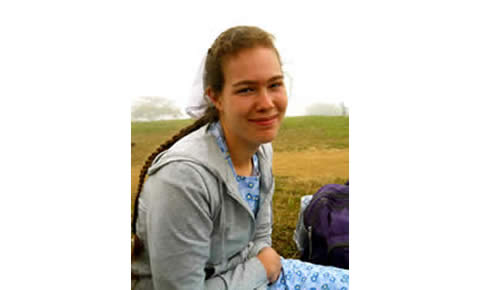 Elizabeth Trice - Madison, Indiana
My time at CISA was unlike anything I had ever done before. Literally-It was my first time flying and everything. And I was so nervous! But the people were really nice, the teachers at CISA and my homestay family. They would talk to me whether I could understand them or not and made me want to understand and so try to study more. I realize how much more I need to study but I learned a lot and I am extremely grateful to CISA giving me a good foundation to go off of when I start to study Spanish again on my own at home.
The outside-the-classroom experiences were just as different and exciting. We hiked into the Chirripo mountains to visit a tribe, to bring them supplies and fellowship with them. The hike was the most strenuous physically challenging thing I've ever done. And the fact that I did it and made it back has shown me that I can do other things, back home, that I've never tried before because I was scared I couldn't and now I know that I can. Or at the least it won't hurt to just try. My time at CISA was a very blessed time for me, and I'll never forget.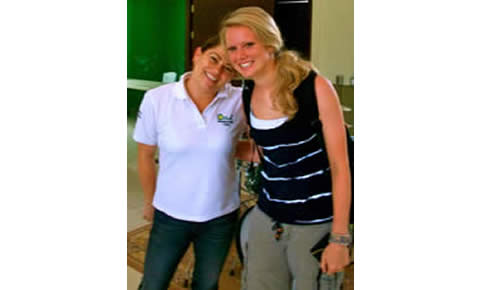 Zoe LaCroix
I went into my trip with CISA knowing that I really enjoyed the Spanish language. I had taken classes at school and it was something I enjoyed studying. But I didn't expect, that through CISA, my eyes would be opened to so much more. During my short 3 weeks in Costa Rica, I fell in love. The culture, the people, the language, everything.
I found myself at the end of my time there never wanting to leave. I had developed relationships with everyone involved in CISA. They had become my family. The kindness and love that came from each and every one of their hearts was incredible, & something I didn't want to have to leave as I traveled back to Michigan.
Even after 3 weeks my Spanish had greatly improved. The classes were extremely thorough, making sure that every part of my Spanish was perfect. They didn't stand for anything less, & that I appreciated. I wouldn't trade this experience for the world. Tuis, Costa Rica is the perfect place to study Spanish and live amongst some of the most loving people you'll ever meet! I'm so thankful.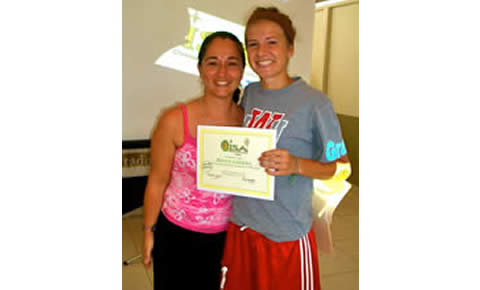 Hattie LaCroix
My experience at CISA was so much more than I ever imagined! Coming into it, I thought I would be learning Spanish in a classroom during the week and then on the weekends, going on some excursions to see the country. That was all I was expecting, but even on my first night in Tuis I could see that CISA was much more than I thought.
The first thing we did after settling into our homestays was go to church. It was crazy to see God working in a place that I wasn't familiar with at all. When I couldn't understand anyone, I still felt God there. Even though I couldn't communicate with the people at first, they still showed God's love to me and I felt peace. As I took classes at CISA and learned the language, I became part of the community there as I made friends and simply lived among the people.
Of course, everything was very organized at CISA and we were able to go on some crazy adventures! But for me, the best part was learning to rely on God in a place that is patient, accepting, and so loving. Costa Rica is beautiful in every way and I am so thankful to have had the experience I did!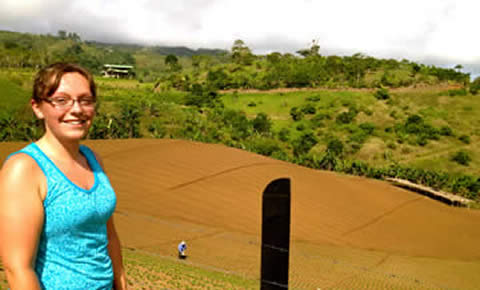 Justine Penner, Canada
Coming to CISA to study Spanish for 3 weeks has been about far more than learning a new language. I had studied Spanish for just one Semester in my Sr. Year of High School and gone on a mission trip to Bogota, Colombia teaching English to children there. I really felt God leading me to pursue fluency in Spanish and a more reliant relationship with Him, so just before I graduated from High School, I typed "Christian Spanish Immersion" into Google. CISA popped up! A long story short, on July 6th I came to Tuis to begin studying. I lived with a Tico family for the 3 weeks that I was here as a student. My "Spanish Class" extended far beyond the classroom; when I came home from school, I spoke in Spanish...when I ate meals, I spoke in Spanish...when I woke up in the morning, it was all in Spanish! I even went to Baby Showers and Housewarming Parties! At first, this was incredibly overwhelming because I knew very little Spanish, but the people were SO forgiving and SO patient with me. Because I was so far from everything I have ever known, I learned to see God and His Word truly as my only source of sustenance for the first time in my life. When that clicked, Tuis became home. Albeit, a very humid, hot, different home with new challenges and obstacles and new joys and excitement; but home nonetheless. "When my soul was overwhelmed within me, You knew my path." Psalm 142:3 This verse brought me so much comfort and was such an answer to my rather perplexed prayers at the start.
My teacher at CISA went above and beyond the job description of any 'teacher' by giving me assignments outside of the classroom, bringing things from home to show me and teach me, and generally welcoming me not only as a student, but as a new friend. At CISA, there were so many opportunities to talk about our faith, to serve the community and to share our faith with the members of the community. But, more often than not, I felt that I was the one being served. By directly participating in church services, we students were able to create a deeper bond and rapport with members of the community. As Elisabeth Elliot put it, "If you put the giving first, the receiving is inevitable." Within such a short period of time, I had Costa Rican 'brothers' and 'sisters' and 'grandmothers'...this people group is so warm and hospitable and readily accepts students as part of their lives. Meeting the other students here, too, was such a blessing. We quickly became friends despite many differences because we were all in the same situation. I now have friends from literally all over the world, and together we can share our joys and challenges in our relationships with Christ and adventure in learning to speak Spanish.
CISA is an incredible experience; more than just a school to learn Spanish. It is a place to learn about God, different cultures and people; to learn about yourself and how to integrate it all together in a way that brings glory to our Creator. Surely God uses the simple things to teach us wonderful, incomprehensible things! Just as God said to Jeremiah: "...and if you extract the precious from the insignificant, you will be My spokesman..." (Jeremiah 15:19) so He says to all of us who believe in Him. I would readily encourage any and all who have any desire whatsoever to learn a new language and culture and desire to deepen their relationship with God to come to CISA.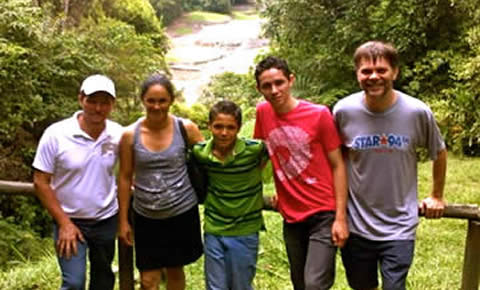 Jamie Vernon, Atlanta, US
My family and I are planting a church on the south side of Atlanta. We're meeting in an elementary school that has a 60% hispanic population. So it was a "no-brainer" for me to Google "Christian Spanish immersion school" late one night. Up popped CISA. And it was a "God thing."
I spent three weeks in Tuis, Costa Rica with an incredible "Tico" family. In those three weeks, I dove in and learned as much as I could. But I learned way more than how to be conversational in Spanish. Through the amazing people I stayed with and the great teachers at the mission, I was reminded of the stuff that is important in life: family, friends, community, hard work, enjoying life. Plus, Costa Rica is the most beautiful place I've ever been! I went to learn Spanish, but ended up with a respite from the craziness that is church planting.
I'm grateful to God for the gift of CISA. Costa Rica is now a part of my heart, and I hope to return soon with my family.